5.Reggie Wayne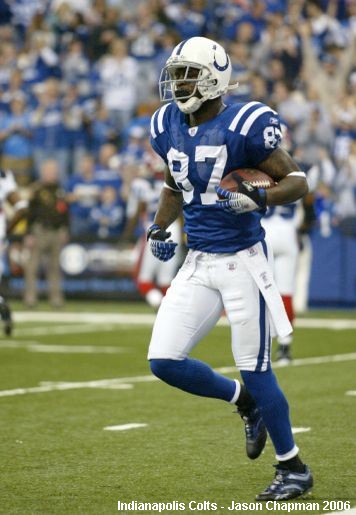 He's the Scottie Pippen to Harrison's Jordan. He's the Jake Reed to Marvin's Cris Carter. He's like Macho Man when he teamed up with Hulk Hogan, just before they broke up due to the confusing argument involving Miss Elizabeth. I think Peyton is Miss Elizabeth in that analogy. Anyway, Reggie Wayne may be the #2 receiver on the Colts, but he makes plays and puts up numbers like a #1. Plus, he went to college in Miami and yet seems to have avoided getting in trouble with the law and alienating himself from fans and teammates. That's impressive. But what really puts him over the top is that he has been an integral part of my fantasy football team for about three or four years now.
4.Wayne Chrebet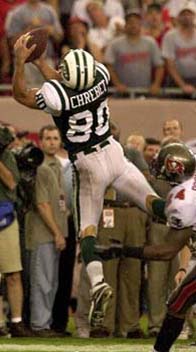 Back before the days of Terrell Owens and Randy Moss and the various hated receivers of today's NFL, there was Keyshawn Johnson. Keyshawn was one of those caricature-like athletes who was so into himself that people actually felt compelled to hate him. (I asked Jewel why this was and she said, "'cause he's pieces of them") Anyway, since Keyshawn had no negative words to say about himself, the #1 overall pick out of USC chose to direct his negativity toward his biggest threat: Wayne Chrebet. I didn't read his book, but if memory serves, Keyshawn used his debut literary work to call Wayne Chrebet the "team mascot." I'm pretty sure he had other lame remarks about him, but the mascot line got all the play in the media. Chrebet of course, was Johnson's teammate. He was also an undrafted receiver out of Hofstra who finished the '96 season (Keyshawn's first, Chrebet's second) with more catches and yards than Johnson. He was also a half-foot shorter than Keyshawn. Anyway, the disdain for Chrebet seemed like a classic case of insecurity. He was probably trying to convince himself of his superiority to Chrebet more than anything else. Whatever his motives, Keyshawn's remarks did accomplish one thing: They cemented Wayne Chrebet as a folk hero in the eyes of pretty much every American football fan. People hardly even needed a reason to embrace Chrebet. If Keyshawn hated him, that was reason enough to love him. Add to that the fact that he was a classic underdog, and suddenly everyone is a Wayne Chrebet fan. He was the anti-Keyshawn. I specifically remember watching the end of a Jets game and being thrilled that the Jets won the game on a td pass to Chrebet. I'm pretty sure it was the game against Keyshawn's Buccaneers, where Keyshawn ended with one catch for one yard. I don't know how the players actually felt about the play, but to me, it was more than just a game-winning touchdown. I felt like Chrebet landed an uppercut to Keyshawn's ego. It might sound stupid to you, but that's how I felt. If you don't remember the Wayne Chrebet era, you might find this all a bit foolish. But if you do remember, you know that a list of Waynes without Wayne Chrebet would hardly be a list at all.
3.Wang Chung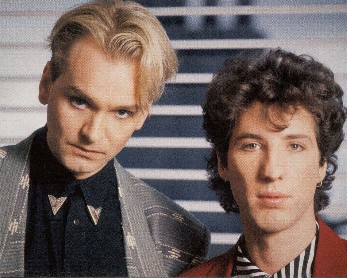 It's a homonym. Kind of. Wang Chung is the name of a band. But the legend doesn't end there. They also included their name in their biggest hit song, "Everybody Have Fun Tonight." The line, as you probably know, said, "Everybody have fun tonight. Everybody Wang Chung tonight." The greatness of the line is that just about everyone knows it, and knows the band who sang it, but most people probably have no freaking clue what "Wang Chung" means. I didn't. I just looked it up. It's not that exciting. You can look it up on your own if you want. Or if you prefer, just let the mystery remain. Regardless, the band and the song are legendary. By the way, does anyone else remember when Beavis and Butthead watched the Wang Chung video? I think that's where I first learned of the band.
2.Wayne Gretzky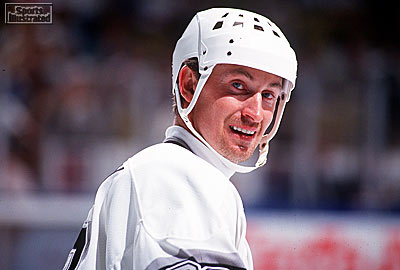 I don't know if there's too much more to be said about Gretzky. I'm certainly not a hockey expert so I can't tell you that my words carry a whole lot of weight. But he's got more assists than anyone else has points, people! And he's got more goals than anyone has too. I wonder if he wouldn't be atop all greatest athlete lists if hockey were as popular as the other sports in this country. Of course, the biggest accomplishment of Gretzky's was being a member of the "Pro Stars" along with Bo Jackson and Michael Jordan.
1. Wayne Campbell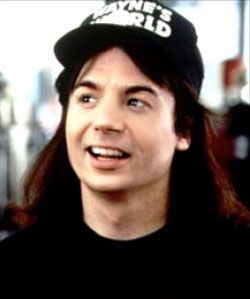 The host of "Wayne's World." With him, as always, is Garth. Back when I was probably too young to watch SNL (but did it anyway), it was always a big deal when "Wayne's World" came on. Even better than the sketches, though, were the movies. The best part is that they're totally rewatchable too. In fact, I think they're probably even funnier now. Wayne had a certain comedic brilliance that might just be timeless. Plus, he hosted a tv show, organized a concert, and dated a hot rock star named Cassandra. It's that kind of greatness that makes him number one.
Dishonorable mention: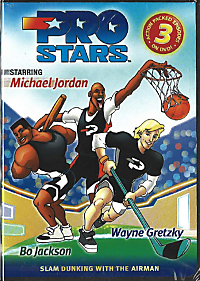 Wayne Newton - Kind of creeps me out. Maybe it's because he tried to steal away Clark Griswold's wife.
Bruce Wayne - Kept a butler.
John Wayne - I don't care much for cowboy movies.
-Jon looks forward to writing his next article in 2009.