Link Stats
Added By: PackOne
Added on: 06/23/2007 @ 9:43:50 AM
Link View Count: 587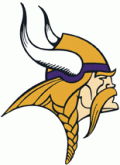 Minnesota Vikings
Vikings have a VikeQueen in the throne room.
Good for them.
View External Link [www.startribune.com]
Back to Link List
Carlos44ec - "If at first you don't succeed, failure may be your style."
And then?
PackOne - 1528 Posts


Sorry I couldn't come up with a more inspiring story. I'll work on a baby transvestite serial killer piece for you next time.
Alex - Ignorance is bliss to those uneducated
That doesn't sound very interesting either. I'd like to pre-rate that with 0 nuts.
PackOne - Sit down your rockin' the boat.
What a strange thing. That's the same rating I give your blog. Strange world huh.
craig - 131 Posts
Great free agent pickup for the Vikes! One of the most exciting front-office moves so far this off season! Any word on how the contract is structured?
PackOne - 1528 Posts
About as exciting as the world of Azeroth...and everyone in it.
PackOne - 1528 Posts
Alex's to do list ....

Hit level 30 and gain travel form.
Make damn sure Leatherworking hits 155.
Kill 50 Ashenval Bears for sneaking up on him all the time.
Waste 16 hours outside of the real world.
Jeremy - The pig says "My wife is a slut?"
You seem to know an awful lot about it for ripping so mercilessly on someone who used a 10 day trail.
PackOne - Yeah, and you don't stop, 'caus its 1-8-7 on a ...
I cast a knowledge spell to get up to speed.
Jeremy - 8953 Posts


They front loaded it so she wont have to be a cap casualty in 3 seasons.
PackOne - 1528 Posts
They really liked her moxy. She also enjoys ticket scalping and long romantic boat rides.
Jeremy - Cube Phenomenoligist
She would have gotten a job with the Packers but the only females they are interested in are underaged babysitters.
PackOne - No matter how many MC's I eat up ... oh, it's never enough.


Your forgot prescription drug addicts and wife beaters.

EDIT: Also former Viking drunk drivers.
PackOne screwed with this at 06/25/2007 1:10:59 pm
Jeremy - 8953 Posts
No, those are the only players they are interested in.