As long as there have been sports there have been names to go along with the teams. And as long as there have been team names, there have been people wondering how and why a team was named the way it was. As far as naming goes, there seem to be several categories into which team names fall. I am going to take the four major professional sports (football, baseball, basketball, and hockey), break down these categories, and explain how some of the teams ended up with such an unusual name. It also begs the question, what if the players played the role of their team name in the off-season? Would the Viking players really pillage and burn in March and April? Would Brian Urlacher really feel the need to sleep in a cave for several months at a time? Does Brett Favre need to buy a clever and don a white butcher's coat? As entertaining as it would be to see our favorite players play the roles of the teams they play for, I think we're better off watching them play the sports they are good at.
Animals--Nearly 30% of team names
It would not be hard to guess what the most commonly used category is when it comes to picking a team name. Many animals have the reputation for being fierce, wild, even dangerous. This may be why many teams have chosen to use animals as their team mascot. From the fierce (Bears, Grizzlies, Lions, etc) to the not so fierce (Penguins, Cubs, Dolphins), teams have come to find identity using furry creatures as their team's namesake. While some of the animal names seem to strike fear into the very core of their opponent, others have more to do with the geographic location. I'm not sure anyone considers the Oriole to be a fierce being, but the city of Baltimore chose its state bird to don the cap of its team. The Pittsburg Penguins chose the name partly because the PENguins play in PENsylvania.
Dolphins, Eagles, Bengals, Ravens, Lions, Bears, Colts, Jaguars, Falcons, Panthers (NFL)
Broncos, Seahawks, Cardinals (NFL), Rams, Blue Jays, Orioles, Devil Rays, Marlins, Tigers, Cardinals (MLB), Cubs, Diamondbacks, Penguins, Predators, Bruins, Thrashers, Panthers (NHL), Coyotes, Sharks, Raptors, Grizzlies, Hornets, Bulls, Bucks, Timberwolves, Hawks, Bobcats
People/People groups--17%
In the age of political correctness, the next category seems like it might become a dying breed. People or people groups are often the subject of team nicknames. Native Americans are commonly used among team names, as the Braves, Indians, Chiefs, Redskins, and Blackhawks all use some nickname of the real American founders. The debate has been going on for a while whether to using Native American names, but that is another discussion for another time. Swashbuckling is another popular image to have apparently, as the Buccaneers, Pirates, and Raiders all seem to embrace their inner pirate.
There are some other interesting concoctions of names in this category. The Cleveland Browns are named after their first coach, Paul Brown, and as far as I can tell they are only one of two teams to be named after a specific person (the other being the Buffalo Bills, who fall under a different category for reasons yet to be explained). The current Los Angeles Dodgers got their name as a take off of "Trolley-dodgers" for Brooklyn's vast use of trolleys. The New York Knicks are not named after the old-school pants that only came down to the knees, but rather for the Dutch settlers from where the clothing got its name.
Redskins, Cowboys, Warriors, Vikings, Buccaneers, Chiefs, Raiders, Celtics, Yankees, Braves, Indians, Pirates, Angels, Padres, Blackhawks, Nationals, Dodgers (after trolly-dodgers), Knicks (For Knickerbockers, Dutch settlers), Cavaliers, Browns (First owner, Paul Brown, Royals
Location--17%
Some teams got their name simply because of where they are located. Names such as the Yankees, Canadians, Islanders, and Capitals are all the direct result of officials looking for a name that fit the location of the team. The difference between this and the category People/People groups is that these names are specifically related to the location. Canadians and Canucks are indeed a people, but these names would make no sense if they were located say in Dallas, or Miami. The Buffalo Bills are named in reference to Buffalo Bill Cody, and the name "Bills" only works when connected to a city named Buffalo. The 76ers and 49ers are named for historical events that took place in those cities. The New Jersey Nets were named as such in order to rhyme with two other teams already playing in the area, the Mets and the Jets.
Bills, Phillies, Giants (MLB), Mets, Yankees, Giants (NFL), Islanders, Texans, Patriots, 49ers, Canadiens, Canucks, Capitals, Stars, 76ers, Nets (named to Rhyme with Mets and Jets), Blue Jackets (Civil War Heritage), Twins, Phlyers, Red Wings
Occupation--10%
Like the location category, some of the teams were named based on an occupation that fit the community in which they were from. Three of the most obvious examples are the Steelers from Pittsburg, the Brewers from Milwaukee, and the Packers of Green Bay. The Packers were the first professional sports team (and hopefully the last) to pick their team name specifically for a company that sponsored them, the Acme Packing company.
Steelers, Packers, Brewers, Mariners, Senators, Oilers, Trailblazers, Kings(NHL), Rangers (NHL), Rangers (MLB), Athletics (named after community organization), Kings (NBA)
Nature--10%
Nature is beautiful, but it can also be competitive and fierce. Who wants to get hit by an Avalanche, or a Hurricane. Can you stand the Heat? If not, you won't be able to handle the Flames. Man, nature sure can be Wild. Some teams decided to go with something that God created, and for the most part, this naming convention seems to work. Note: I put the Nuggets in this category because assumed it refers to gold nuggets and not McDonalds chicken nuggets.
Astros, Rockies, Maple Leafs, Flames, Avalanche, Wild, Hurricanes, Lightning, Nuggets, Heat, Suns, Lakers
Man Made--6.5%
Why chose something natural when you can chose something made by the work of man. The Pacers, Pistons, and Spurs all fit into this category. The most interesting name in this category, the Las Angeles Clippers, named after clipper ships.
Clippers (after Clipper Ships), Pacers, Sabres, Pistons, Rockets, Spurs, Jets, Supersonics
The Arts--3%
No one associates Jazz music with Utah, unless you consider the Morman Tabernacle Choir to be on par with Louis Armstrong. The Magic and Blues, now those make sense for their location. The name Saints comes from the song, "When the Saints Go Marching In," another reference to New Orleans rich musical tradition.
Blues, Jazz, Magic, Saints
Fictional Being--2%
Wizards, Titans, and Devils, oh my! Well, the devil isn't necessarily fictional, but I don't think it actually has a tail and a pitch fork. Also, "in Greek mythology, the Titans were greater even than the gods. They ruled the universe with absolute power. That football field out there that's our universe. Let's rule it like titans."
Wizards, Titans, Devils
Uniform--2%
Why be creative when you can just describe what you are wearing? "What's our team name? Isn't it obvious? My wool button-up sweater is Red! What more do you need to know?" Red Sox, Reds, and White Sox, couldn't you have found something a little more intimidating than the color of your outer garments?
Reds, Red Sox, White Sox
Pop Culture--2%
Let's hope this doesn't become a popular trend, but there are two teams who are directly related to popular culture. Everyone knows the obvious one; the Mighty Ducks (insert your "Flying-V" comments here). But did anyone know that the Dallas Mavericks were named for the 1957 TV show Western Maverick starring James Garner? I rue the day that we end up with the Jacksonville Losties or the Kansas City Scrubs. (Come to think of it, the Kansas City Scrubs has a pretty nice ring to it).
Mavericks (1957 TV show Western Maverick), Mighty Ducks (The movie)
Last but not least, making up a whopping 0.82% of all team names is the San Diego Chargers. I could not find a category for this one, and that's because of the bazaar way the team got their name. According to the pro-football hall of fame website, the name came from the owner's fondness of the bugle and charge call at Dodger games. Go figure.
Names are the true identity of a team. They come to embody the spirit of the players that play under it, and the fans that become a part of it. When all is said and done, the name isn't really what's important; it's the feelings, the emotions, and the character behind the name which the players and fans come to recognize. A winning team could take even the cheesiest of names and make it something to be proud of. In the age of endorsement, we might not be too far away from the Los Angeles Cadillacs of the NFL, and everyone would probably think it's crazy to name a team for a sponsor's top dollar. But, give that team a couple World Championships and no one will really give a hoot where the name came from. What's really in a name, you ask? Only what the team and the fans put into it, and that's really all that matters.
The Visual Aids To Back It Up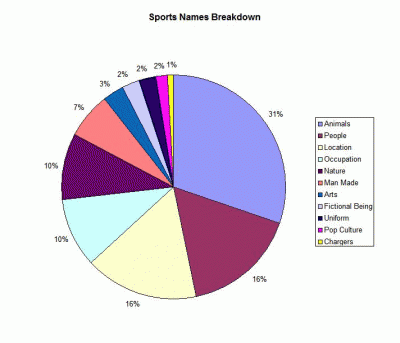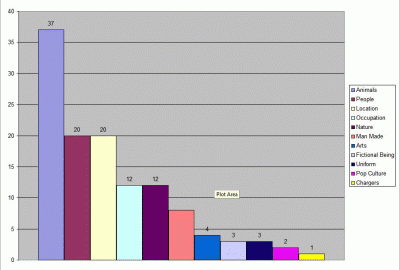 Sources
http://www.profootballhof.com/history/nicknames.jsp
http://www.msu.edu/~philpott/Hockey/hockey.names.html